Going Eco the Genius Way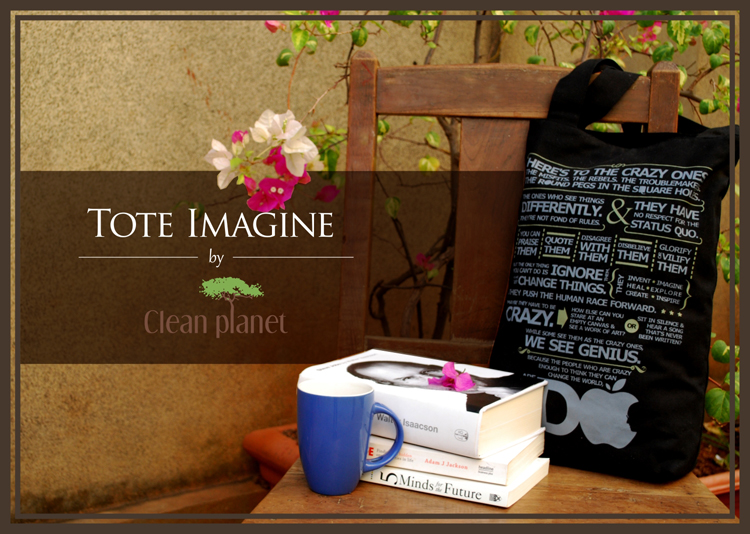 At Clean Planet, we're a little crazy and believe we can change the world. We set off on the road less taken, making reusable and eco stylish totes with innovation all over our mind. We wanted to make a tote that would be path breaking and creatively stimulating.
An ode to Mr. Jobs, Tote Imagine is a call to recognise the genius in you. It is crafted out of 100% eco friendliness and spirit to explore endless possibilities. Steve Jobs has been a continuing source of inspiration to us with his pioneering spirit of imagination. It's created a new world order!
Imagine saving the world from 300 plastic bags per person per year. Daily use of this eco tote up scales the awesomeness & cleanliness quotient of our planet whilst letting one be who they really are. Tote Imagine is a call to action to enliven the crazy one and genius within all of us.
At Clean Planet, we often emphasise on the importance of a sustainable lifestyle. Add to this dashing eco style and you get the best products.
Collaborate with us in making this one heck of planet! We'd like for folks to get it on with their gray cells and make this world a work of art.
Check Tote Imagine out right here – http://bit.ly/IG0W38
Tags: bag, clean planet, Clean Planet Store, cloth bag, creative, design, earth, earth art, home, innovation, joy, reusable bag, shopping, sustainable
RSS Feeds
Subcribe Feeds by Email