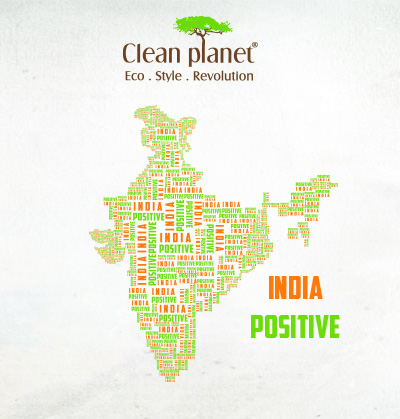 On 15th Aug 2017 the world's largest democracy – #India turns 70 . We live in an era where we have the opportunity to participate in creating a nation that is truly #SaareJahanSeAccha .
Great citizens make a nation great . We would like to invoke your inner citizen activist by suggesting 70 doable ways in which we can contribute to creating an even greater, joyous , sustainable and #SwachhBharat.
Plant saplings
Eliminate plastic bags from your daily life
Car pool
Compost
Repair the objects you use so that you can use them longer
Help an underprivileged person open a bank a/c
Donate books
Donate toys
Volunteer for a social cause
Pledge never to litter
Help an underprivileged person get insurance cover
Support education for a child
Follow traffic rules
Don't waste food
Smile – spread happiness
Don't give bribes
Don't take any bribes
Encourage people in your vicinity to keep the areas clean
Visit an old relative / neighbour . You will make their day.
Support 'Made in India' products
Get off the phone . Spend time with people and make a difference
Enable financial literacy
Create a veg/herb garden
Be kind to animals
Get involved in local civic issues. Write to your local representatives / govt on issues that impact your area
Remember that as an Indian – you are an Ambassador of India – within India & overseas .
Try to learn a new language – an Indian language .
Each time you buy something you are voting for the kind of world you wish to live in. Pl choose consciously .
Help beautify a common space
Each of us has talents and passions . Pl choose causes you resonate with and bring your contribution to it.
Help the elderly go digital
Do fund raising for a cause you believe in
Initiate a collection drive for clothes and donate them to the needy
Walk to places nearby . You'll save on fuel , money & get fitter
Use public transport as much as possible
Be an engaged , active citizen
Thank 5 people who made a positive difference to your life
Give an unexpected treat to those who work in your home
Let people in your community know they can approach you for help
When you notice awesome service – make it a point to acknowledge it .
Save water
Do your bit to help make India safer for women and children
Save energy – switch off appliances when not in use
Travel to places in #IncredibleIndia
We are a diverse nation – unique in the world . Let's remember that we are first and foremost – Indians.
Switch to LED lights – progressively
Support the differently abled
Go digital in your payments
Carry a #Reusable Bag – Always while shopping
Inspire people in your family / community to go eco
Create cool stuff with upcycled material
Learn something new every month about India and it's amazing culture
Dispose electronic waste responsibly
Meditate
Learn Yoga – your body and eventually family will thank you for a healthier , calmer you !
Send a message of support to our Armed Forces
While driving give way to ambulances / fire brigades
Write 10 things you love about India . Share them with your family & friends
Stand up for what you believe in . Make your voice count .
Make sure you vote in the elections
Support green biz
Reuse objects – so that you send out lesser trash to the land fill
Ditch bottled water . Carry your own bottle of water – it is safer , planet and wallet friendly
In your sphere of work – see in what ways you can go eco . Go ahead and make it happen
Don't spit – in any public space
There are many avenues where you can share your ideas for India – e.g MyGov.in , NaMo app .Your ideas can help shape India.
Support the traditional crafts of India
Our country is our larger home . Treat it with respect
Stop people from defacing national monuments / public spaces
Commit to doing something #IndiaPositive every week
One #IndiaPositive Action a week
One Billion Indians . 52 billion potential #IndiaPositive Actions .
#NewINDIA  #SaareJahanSeAccha
Each One Of Us Can Make A Difference . Together We Make Change.