Pl choose to create a safer India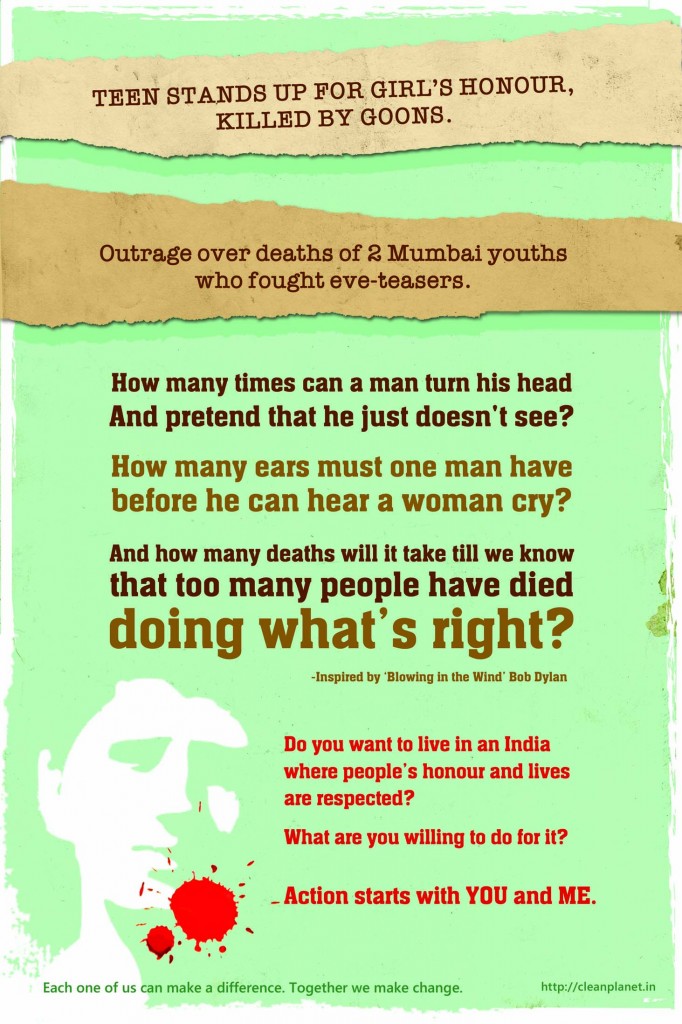 TV some days feels like a horror movie . 3 days ago we saw the horrific case of a teenager
Santosh Vichivora
who was killed by a group of people who were passing lewd comments on his friend . A day later there was news from
Amritsar
about a police official being killed in broad daylight for protesting harassment to his daughter . Articles about women being attacked are almost staple in newspapers like the classifieds.
We need to reflect what kind of a nation are we becoming where women are being teased / molested / attacked in every state. And men who stand up to protest are being killed / harmed . Our heart goes out to these men and women and their loved ones for the trauma they go through . The course of lives irreversibly altered for petty reasons.
This is no more a problem 'out there'. Fear or apathy is no longer a response we can afford. As we see with cases across India – the problem is not limited to any region or section of society.
While government , police and judiciary must do their roles with integrity and efficiency – this is sadly one of those complex issues where an efficient police , judiciary and government alone (or even together ) are insufficient to deal with the sheer scale of the problem. You and me – the citizens of this nation must come forward to never let another
Santosh Vichivora
die an untimely death.
How do we become a country where people's honor and lives are respected ?
Pl share your thoughts . More importantly take action to create a safe India .
Remember Each one of us can make a difference . Together , we make CHANGE.