Shloka Pouches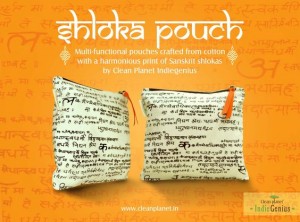 At Clean Planet we believe that words have energy and power . Everyday living objects can be imbued with purpose , meaning and positivity . A pouch can be so much more than a pouch .
The Indigenius Shloka pouch is a bundle of positive energy crafted impeccably from 100% Cotton . It has the elegant charm of a wise sage .
Look forward to more of these in the coming months and beyond.
p.s – share your thoughts with us at hello@cleanplanet.in
RSS Feeds
Subcribe Feeds by Email